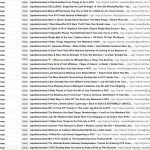 News — July 13, 2016

Oftentimes, we enter online sweepstakes to win vacations, shopping sprees, and other free things. The downside to these contests is that we're providing our email addresses to businesses with the intent of sending us newsletters and information about their services. In fact, the collection of email addresses is likely the reason the business created the contest in the first place.
If you enter a contest with your personal email address, it's sometimes difficult to unsubscribe to these newsletters once the contest is over. As we know, clicking the "unsubscribe" link can actually increase the number of spam messages you receive. Businesses with unethical marketing tactics use that click as a method to authenticate your email address, serving as proof that the inbox is actually checked and not just forwarded to a dead letter office.
If you enter the contest with a Bulc Club forwarder, you can simply disable the forwarder once the contest is over and you'll never receive a message from them, nor the third parties they sold your information to, again.