News — September 18, 2020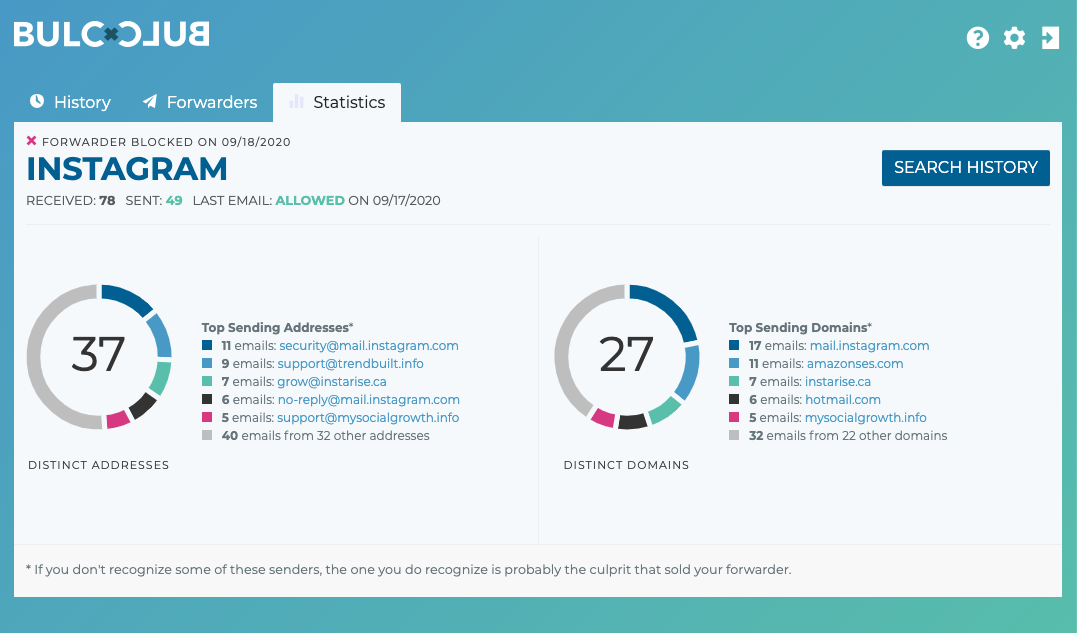 For the past few months, we've been seeing numerous tweets by frustrated people indicating that Instagram shared their email addresses to spammers. However unethical their marketing practices, Bulc Club can quickly and easily protect your inbox, blocking all unwanted Instagram spam.
One of the coolest features of Bulc Club is that every (free) account comes with unlimited forwarding email addresses (or forwarders). If you subscribe to an online service using one of our forwarders, you automatically know who shared your information with third parties (marketing partners, bulkmailers, etc.). Beyond simply identifying the culprits, you can limit the mail sent through our forwarders. We call this mail filtering. If you only want to receive important account information from Instagram, but don't want to receive any messages from the people/companies they shared your email address to, you can simply block all messages sent through the forwarder EXCEPT those coming from a specific address (say, security@mail.instagram.com). Instantly, the only messages you receive will be valid, non-spam messages from Instagram.
Here's a step-by-step guide for changing your Instagram account email address to a Bulc Club forwarder.
The process is roughly the same for most other online services and social media sites. For these, use our Online Service Spam Prevention Cheatsheet for a list of links where you can change your primary email address.
1. Log-in and click "Edit Profile".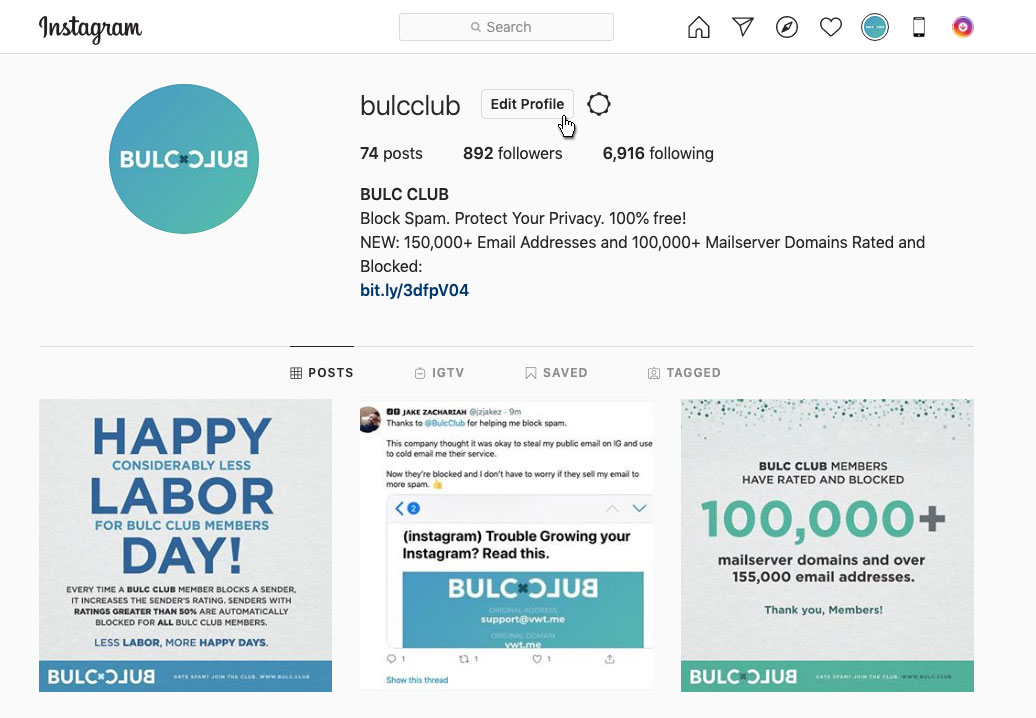 2. Change your Instagram email address to a Bulc Club Forwarder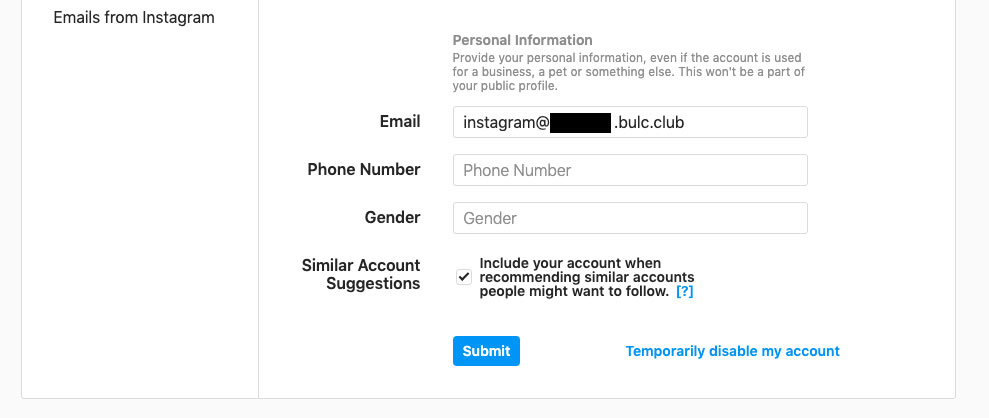 Remember the format for a Bulc Club Forwarder is: [alias] @ [username] .bulc.club. The alias can be whatever you want it to be, but choose something that's easy for you to identify so you can tell who sold or shared your email address. To make it simple, we chose the alias "instagram" for this forwarder. Your username is the one you used when you signed up for Bulc Club.
When you're finished, click "Submit" at the bottom of the form.
---
If they don't have your email address,
they can't sell it to marketing partners.
---
Once you remove your personal email address, the only address on your account is now your Bulc Club forwarder (so you'll need to use your forwarder to log-in to Instagram from now on). If Instagram sells or shares this address, we can easily filter out the spam, allowing only non-spam account notifications from Instagram. If they have your real email address, it would be nearly impossible to block all mail except for the valid messages, and you'd have no idea who sold/shared your information in the first place. Change the primary email address for all your social media accounts (e.g., Facebook, Twitter, LinkedIn, Pinterest, etc.) and any other online service you use. This will help protect your inbox from spam.
 3. Block all mail except those from Instagram (optional)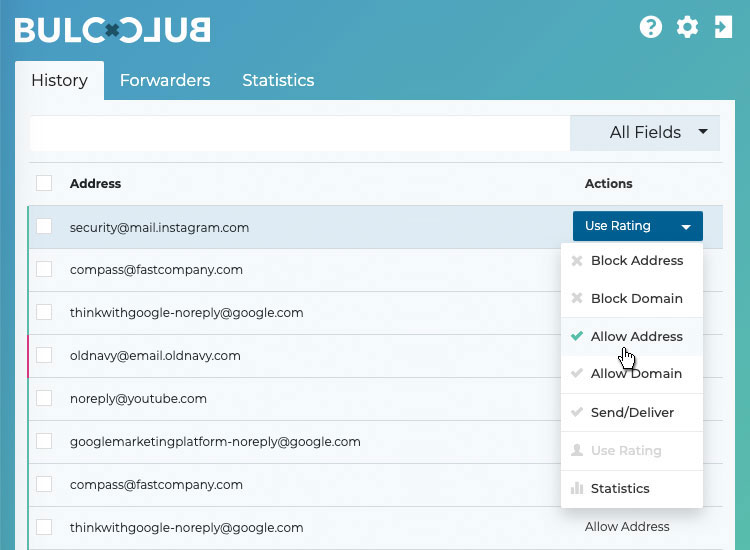 Log-in to your Bulc Club Member Console and locate the message from Instagram in the "History" tab. This is the default tab you're brought to after logging in. Click the dropdown in the "Actions" column by the message to change the default action from "Use Rating" (which uses the Bulc Club Member Rating to decide if it's forwarded or filtered out) to "Allow Address."
Now, click the "Forwarders" tab and locate the alias you used for your Instagram forwarder (e.g., "instagram"). Change the default action from "Use Rating" to "Block All."
All messages sent through your Instagram forwarder will be blocked EXCEPT for those that come through their security@mail.instagram.com email address. All other messages from marketing partners and spammers will continue to be blocked.
Tip: Rather than individually overriding the forwarder block on each email address, you can choose "Allow Domain" instead. This will allow the forwarder to send all messages from mail.instagram.com and continue blocking messages from other domains.
Questions?
Browse our Bulc Club Knowledgebase, Contact Us, or Submit a Support Ticket in our Help Center.