Posts tagged:
digital receipt
Proposed California bill opens consumers to the spread of unsolicited email, bulkmail, and spam, makes a strong case for Bulc Club's free email forwarding service.
Read more »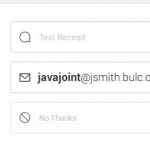 News — March 22, 2017
Digital point of sale (POS) systems are becoming more prevalent, giving rise to digital receipts. Oftentimes, we'd rather skip the tax write-off if it means that we may receive SMS and email spam.
Read more »