News — February 13, 2015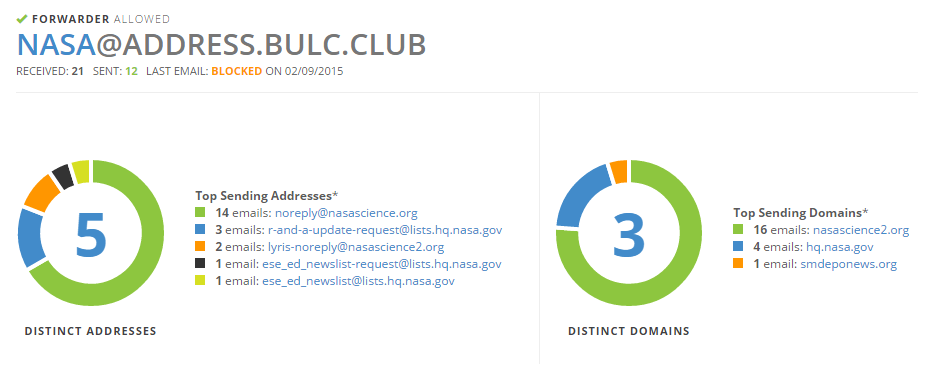 Ever subscribe to a newsletter and find yourself receiving messages from different senders (email addresses and mail server domains)? Bulc Club makes it easy for you to see who is using your forwarders. Better yet, you can block specific addresses and domains so that you only receive the messages you want.
View Statistics
In the above example, Bulc Club user "address" subscribed to one mailing list on the NASA web site. However, you can see that NASA has either inadvertently subscribed this user to additional lists or is sending mail from additional senders and domains. Click Statistics from the Actions drop-down by NASA in the Forwarders tab of your Member Console to see a list of Top Sending Addresses and Domains to view all senders using this Forwarder. If you don't recognize one of those senders, or if you'd prefer not to receive mail from them, you can easily block either the address or domain.
Block Addresses and Domains
To do this, click Block Address or Block Domain from the Actions dropdown by the offending Address or Domain in the History tab of your Members Console. You will no longer receive this mail and the Club Rating will increase. As you know, when the rating for this Address or Domain increases beyond 50%, mail from this Address or Domain will be held for all other users who are using the Club Rating to prevent the transmission of bulkmail, too. With enough members blocking unwanted Addresses and Domains, we could rid the world of bukmail, forever!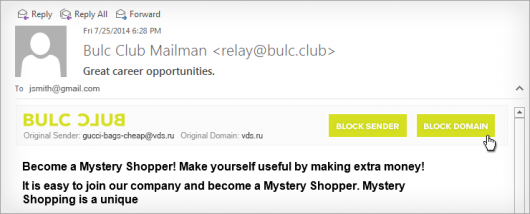 Block Addresses and Domains from Emails: To make things easier, we inject information along with two links at the top of all messages you receive in your inbox.
Join the Club
Interested in learning more? Join the Club, or contact us for a detailed tour of member benefits.