News — April 8, 2016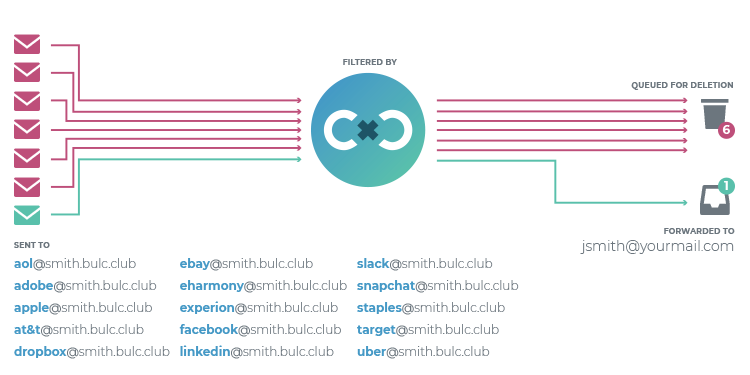 As you probably know, Bulc Club offers unlimited forwarders, created automatically the first time you use them.
What Are Bulc Club Forwarders?
Forwarders are email addresses that simply forward email to another inbox. You can't send mail from a forwarder, just receive. All emails sent to your forwarders are either forwarded to the email address associated with your Bulc Club account, or held by Bulc Club if our members believe they're spam. You only need to check your own email inbox using your preferred email client (Outlook, Gmail, Yahoo! Mail, Mac Mail, Entourage, Thunderbird, etc.). 
How Do Bulc Club Forwarders Work?
Imagine you order a coffee at a café and pay with a credit card. The barista informs you that their Square POS  can't print, but only email you a receipt. You don't need to access your Member Console to create a forwarder beforehand. You simply make one up on the spot and type it in (e.g., fair-coffee@smith.bulc.club).
The benefits to unlimited, automatically-generated forwarders are three-fold:
Protection: You don't have to provide your real email address to a business that may add you to a mailing list without your consent.
Identification: You can instantly find out who sold/shared your email address, should you start getting spam from senders other than that business.
Filtering: You can individually block each forwarder to ensure you never receive spam through it again.
Address Protection
How often have you provided your email address to a business that promised only to  use it for legitimate purposes (e.g., send you a receipt, provide you with a transcript of your tech support chat, or notify you if you're the winner of a contest) only to receive an onslaught of spam afterward? If you provide your real email address, you're left to the mercy of "unsubscribe" links, which may or may not be effective. With Bulc Club forwarders, you never provide your real email address, ensuring it's always protected from businesses with shady agendas.
Bulkmailer Identification
If you provide a forwarder to a business, and use that business's name as the forwarder, you can easily identify who sold or shared your address when you start receiving spam. In the example above, it's safe to assume you'll receive a receipt for your coffee order. And maybe, the coffee shop adds you to their weekly mailing list to notify you of upcoming events. And maybe, you start receiving emails requesting donations for Fair Trade organizations. If you provided your real email address, you would have an inkling as to why you started receiving these emails, but no proof of who sold your information. However, if the messages were addressed to a Bulc Club forwarder (e.g., fair-coffee@smith.bulc.club), you know exactly who sold/shared your information.
Member Tip: You can see a list of all your forwarders in your Member Console. To make things easier, we automatically prepend the forwarder name (e.g., fair-coffee) to the beginning of every subject of every email we forward to you. For example, see the highlighted sections in the image above.
---
Allow messages from one sender.


Automatically block all others.
---
Individual Forwarder Blocking
In your Bulc Club Member Console, the "Forwarders" tab shows a table of all forwarders associated with your account. You can view statistics on the sender addresses and domains that have sent messages to that forwarder. In a perfect world, the only sender would be the one you provided it to (e.g., receipts@faircoffee.com). Should a forwarder begin to receive messages from different senders (e.g., newsletter@faircoffee.com, donations@fairtradecoffee.org), you can select the option to filter out (or block) all messages that go through that forwarder. And because Bulc Club offers filtering on senders, too, you can allow messages from one sender only and automatically block all others.
With each new member, we're getting one step closer to ridding the world of bulkmail, forever. Are you tired or receiving spam?