News — July 13, 2016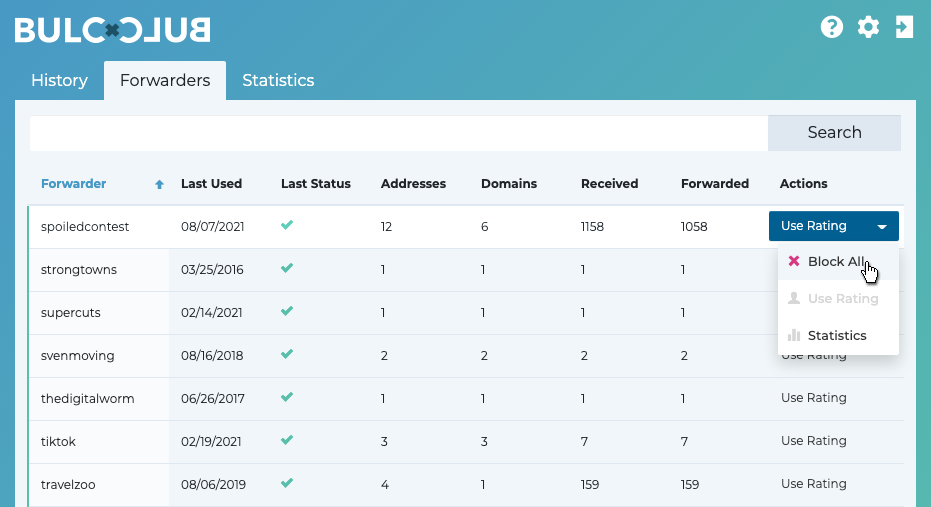 Oftentimes, we enter online sweepstakes to win vacations, shopping sprees, and other free things. The downside to these contests is that we're providing our email addresses to businesses with the intent of sending us newsletters and information about their services. In fact, the collection of email addresses is likely the reason the business created the contest in the first place.

If you enter a contest with your personal email address, it's sometimes difficult to unsubscribe to these newsletters once the contest is over. As we know, clicking the "unsubscribe" link can actually increase the number of spam messages you receive. Businesses with unethical marketing tactics use that click as a method to authenticate your email address, serving as proof that the inbox is actually checked and not just forwarded to a dead letter office.
If you enter the contest with a Bulc Club forwarder, you can simply disable the forwarder once the contest is over and you'll never receive a message from them, nor the third parties they sold your information to, again.
Case in Point
We subscribed to a contest on SpoiledNYC to win a three-day getaway in Boston. Nearly a month after the contest, a winner has yet to be announced. However, we did receive over a thousand messages through that forwarder (spoiledcontest@[account name].bulc.club).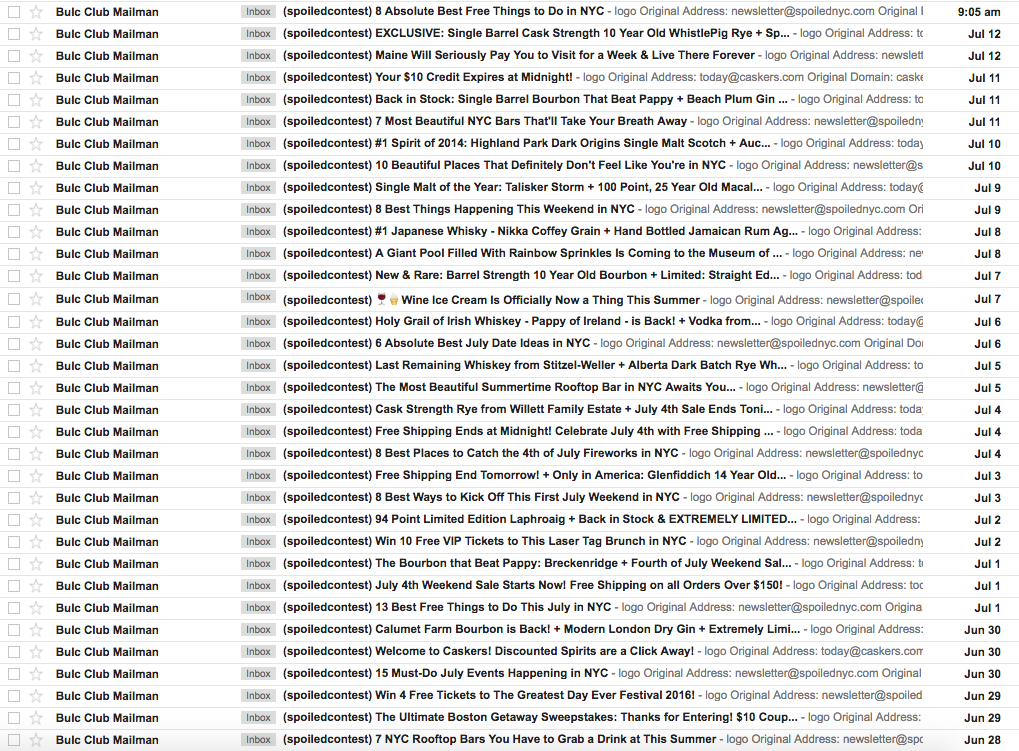 Tip: Remember, Bulc Club prepends all message subjects with the alias of the forwarder ("spoiledcontest") used.
Imagine the contest is over and a winner has been selected. Along with the disappointment of not winning, we're left with subscriptions to newsletters by SpoiledNYC's marketing partners and everyone else to whom they provided your Bulc Club forwarder.
We simply log-in to our Bulc Club Member Console and click the Forwarders tab. From there, we browse to (or search for) the forwarder alias. In this case, it's "spoiledcontest."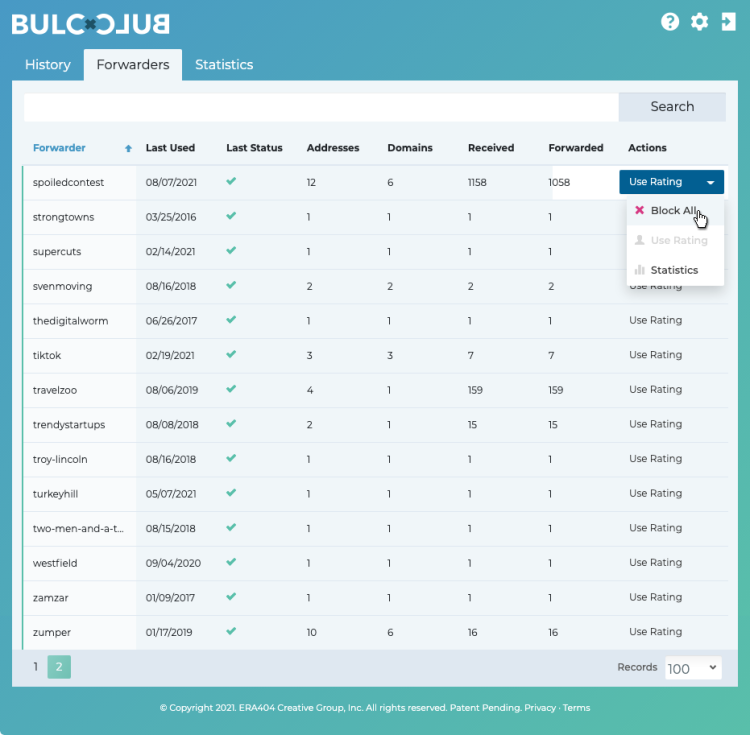 We click the turnstile next to Actions and change the setting from Use Rating (which only blocks messages if the Bulc Club Member Rating for senders' addresses and domains are 50% or less) to Block All.
All emails received through this forwarder will be filtered from being delivered to your inbox and you'll never receive a message from these senders again.
Tip: the messages will wait in your Bulc Club queue for thirty days before they're deleted. So you still have the option of logging into your Member Console, clicking the History tab, and browsing the subjects of the filtered messages, just in case you want to evaluate them before the thirty days are up. If, for whatever reason, you want the message delivered to your inbox, you can click the turnstyle by the message and select "Allow Once" (by messages filtered out) or "Resend" (by messages you previously had delivered before you blocked the forwarder.
---
Never

receive a message from these senders again.
---
To make things easier, you can block a particular address and/or domain directly through links at the top of the emails we forward to you: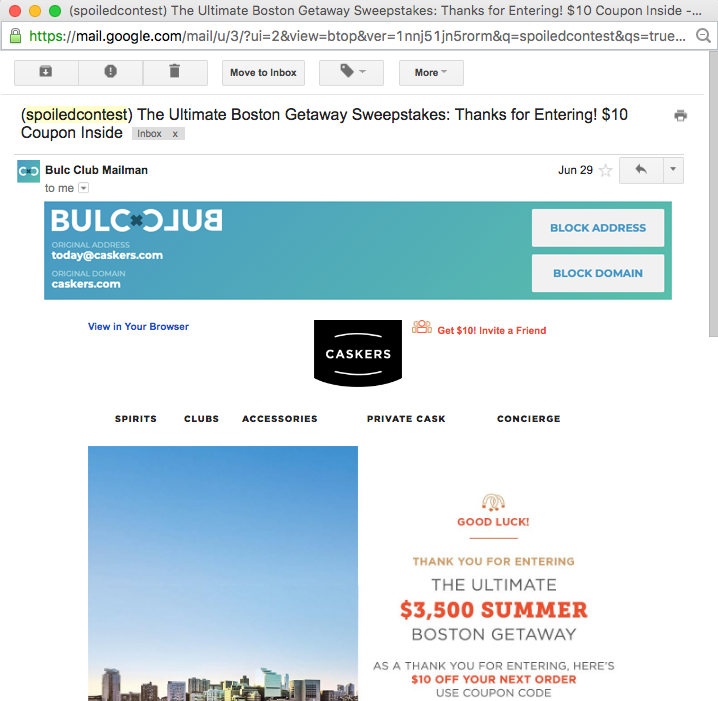 You can even check the current Bulc Club Member Rating by clicking on the address (today@caskers.com) or domain (caskers.com) links at the top of the forwarded email.
Just because you lost the contest, it doesn't mean you should lose control of your inbox. These are just some of the ways that Bulc Club is helping our members reduce the volume of spam and bulkmail messages in their inboxes.
For questions, feedback, and recommendations for new functionality, drop us a line!